Annual client meetings can be overwhelming. There's a lot to cover at one time.
The 2022 Expanded fpPathfinder Service Calendar is your internal tool that offers 12 timely engagement ideas to help you plan your micro-engagements all year long. You'll also find client-facing email templates that will help you get the ball rolling. 
How To Use The Expanded Service Calendar
The fpPathfinder Expanded Service Calendar is an easy, turnkey tool that you can use as-is or lean into for inspiration. The following are a few recommendations to get started:
Download the calendar. fpPathfinder members will find that the calendar includes links to the guides and the communications templates for easy, efficient access to everything they need. 
Review the guides and email templates. You understand your clients best, and you'll be able to identify which topics have broad appeal and which will speak to a segment of your clients. 
Mix and match an experience that suits your practice. Consider how the Expanded Service Calendar can inform your client communication strategy:

Are there periods when you'd like to send a single guide to every client? That is great.
Are there periods when it makes sense to segment your clients and send a more specialized guide to each group? That works!
Are there periods when you want to send two invitations to connect? You can do that, too. 

Plan your year. You can implement as many or as few micro-engagements as you wish. If this is your first time implementing a client service calendar, keep it simple. If you're a pro, consider adding a couple of new topics and periods and see what happens. Use this calendar for ideas, timing, and inspiration.   
The fpPathfinder Expanded Service Calendar is an internal resource for you to use as you plan your outreach. Consider making your client-facing version based on the service calendar you create.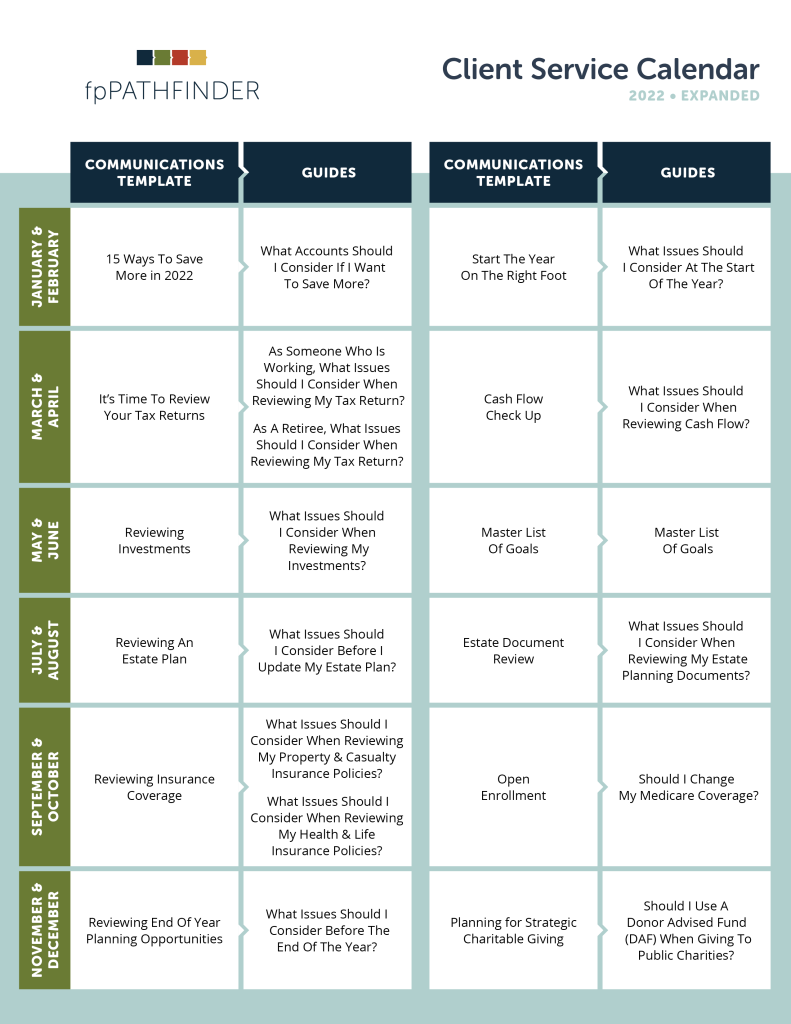 fpPathfinder Membership
Advisors can choose from three membership levels. Check out the Become A Member page and select the membership level that helps move you toward your goals. Alternatively, you can schedule a live demonstration with our team if you'd prefer a more personalized experience.