Many financial advisors face the same age-old struggle – demonstrating their value to clients and prospects. While hours of planning and research are difficult to illustrate to clients, fpPathfinder's checklists and flowcharts have been helping advisors address these issues by providing resources for unique planning situations. We're now offering another customizable solution to streamline client communication and planning to our Deluxe and Premier members.
The new Client Engagement Builder offers a fully customizable and white-labeled solution for your client and prospect engagement needs. Below are just three ways to use the client engagement builder to inspire you to get started.
1. Client Service Calendar
Similar to our popular Expanded Client Service Calendar, a custom Client Service Calendar is just one possible template to structure client engagements. This template ensures clients stay active and focused throughout the planning process.
The client service calendar provides a high-level overview of all the planning involved throughout the year to ensure clients meet their financial goals. By breaking down the financial planning process into quarterly chunks, advisors can set expectations for achieving milestones in a digestible manner. The Client Engagement Builder allows you to clearly communicate "Action Steps" for the advisor or client so the client knows exactly what to expect when working with their advisor.  If you need a primer, this article is a great resource to get you started on crafting your own client service calendar.
Example: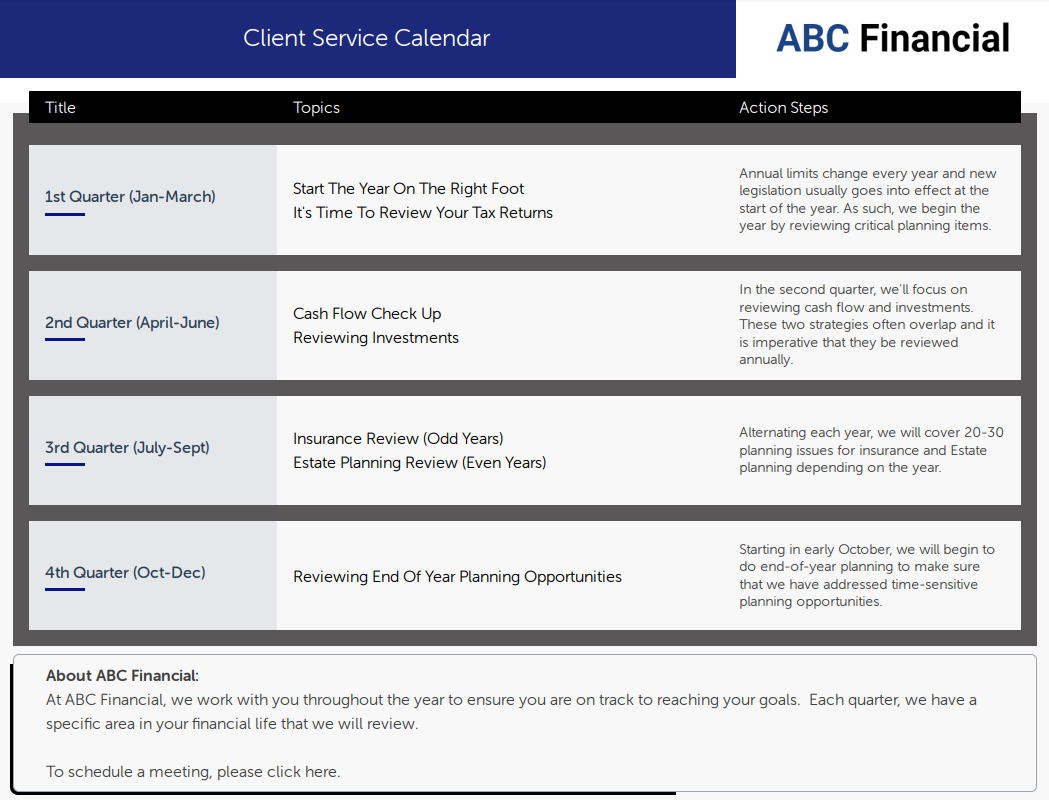 2. Subject Matter Expert Bundle
Advisors often find themselves addressing various complex financial topics with their clients. The Client Engagement Builder allows you to create a Subject Matter Expert Bundle, which includes a collection of educational checklists, flowcharts, and other resources on specific planning topics.
A Subject Matter Expert Bundle helps advisors provide their clients with valuable information and insights on topics such as retirement planning, investment strategies, tax optimization, estate planning, and more. The subject matter can be customized to reflect the advisor's niche and tailored to the specific needs and interests of their clients.
By offering a comprehensive library of educational materials, advisors can position themselves as trusted experts in their field and reinforce the value they bring to the table. A Subject Matter Expert Bundle also provides an opportunity to engage with centers of influence. Centers of influence not only provide advisors with a referral network, but they also possess specialized knowledge in subjects such as tax planning, estate planning, or legal matters. By coordinating with them, financial advisors can tap into this expertise and provide more comprehensive advice to clients. 
Example: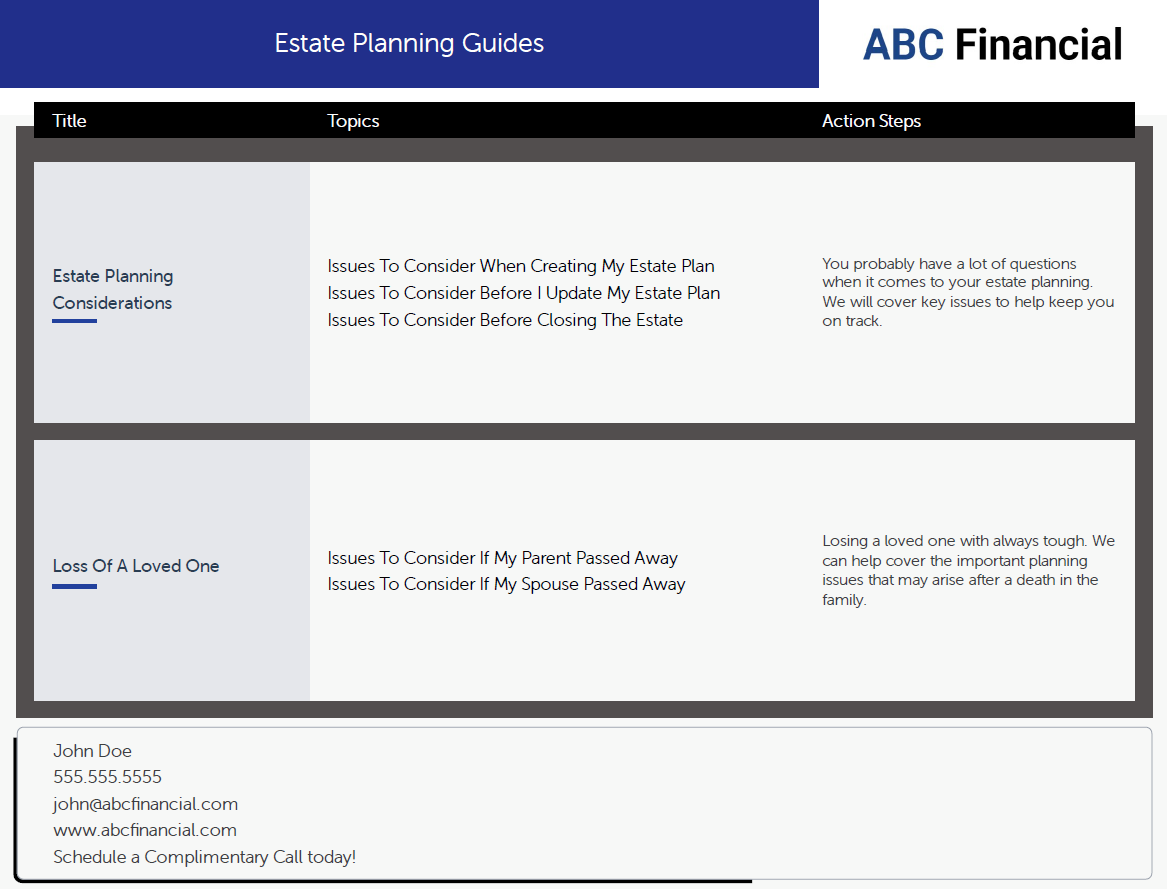 3. Onboarding Calendar
An onboarding calendar serves as a roadmap for both the advisor and the client – or even prospects, ensuring that all necessary onboarding tasks are completed in a timely manner. This tool not only streamlines the onboarding process but also demonstrates the advisor's professionalism and commitment to the client's financial success. By providing a clear outline of what to expect, advisors can build trust and confidence with their clients from the very beginning. 
With the new Client Engagement Builder, advisors can save time and effort by quickly and easily creating professional and engaging content. With this powerful tool at their disposal, advisors can focus on what they do best – providing personalized financial planning services that help clients achieve their financial goals. These are just a few ways to use the Client Engagement Builder, but the possibilities are endless.
Example: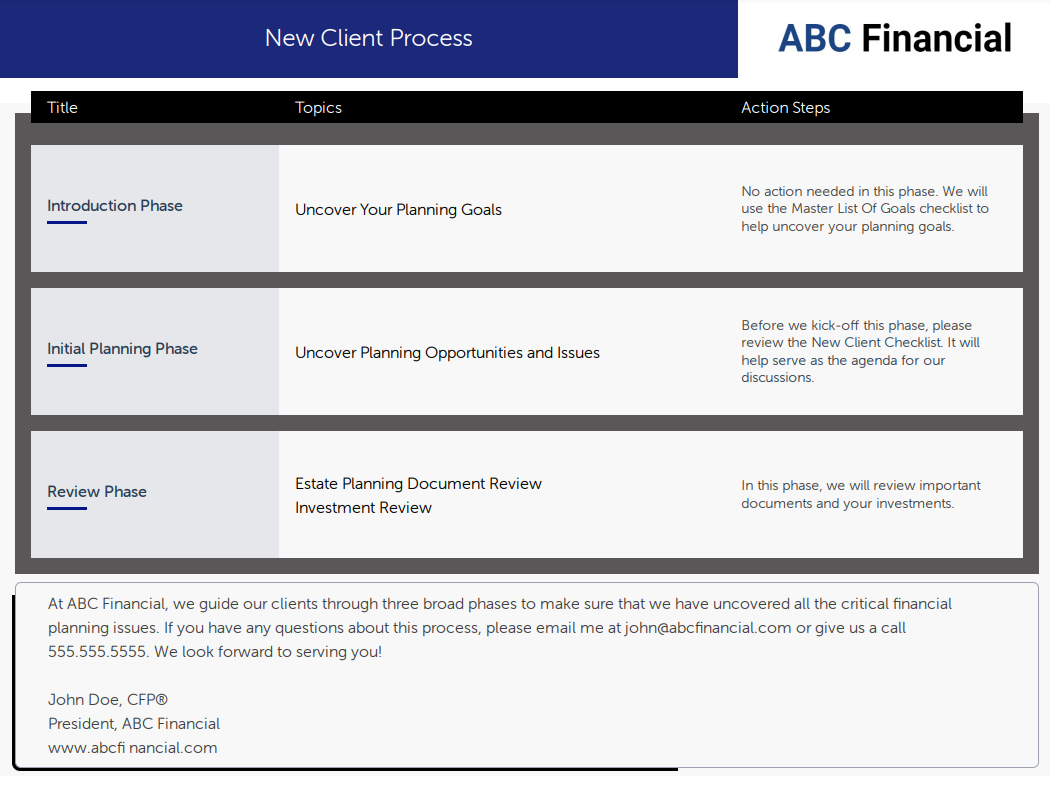 View a Demo: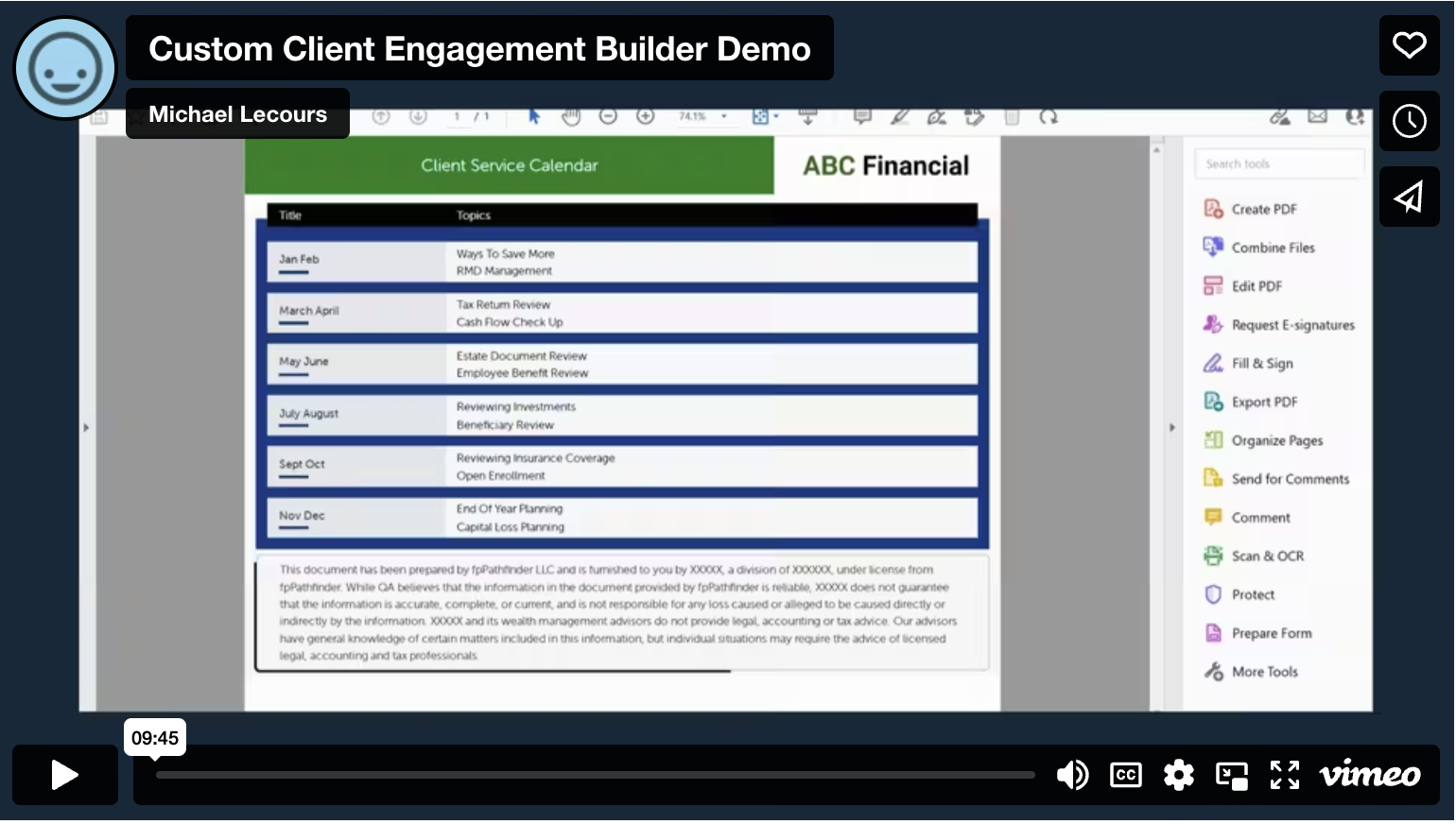 This feature is available for Deluxe and Premier members. Want to start customizing your own Client Engagement Builder? Upgrade today!
Not yet an fpPathfinder member? We can help you with that. You can visit the Become A Member page to explore Premier, Deluxe, and Essentials membership and select the one that moves you closer to your goals. If you'd like a more personalized experience, register for a live demo with the fpPathfinder team. Bring your questions, and we'll happily answer them on the spot. 
Have other ideas? We'd love to see them! Share your ideas at support@fppathfinder.com.