The Share Link Options update was a success among members. However, your team at fpPathfinder isn't one to rest on its laurels. We identified several ways the member experience could be even better … so we kept at it!
Here are four enhancements that will support how Premier Members show up as diligent advisors for their clients. 
1. Add "More Information" In The Advisor-Facing Notes
Share link options now enable members to toggle on the Add More Information (i) to appear in the note. Regardless of whether you've hidden the "More Information" icon from client view, this feature lets you keep the "more information" in the checklist note that is sent to the CRM or your email address. Visible only to you when your client returns the interactive checklist, you'll be able to easily reference the information that will help your client navigate the planning concern.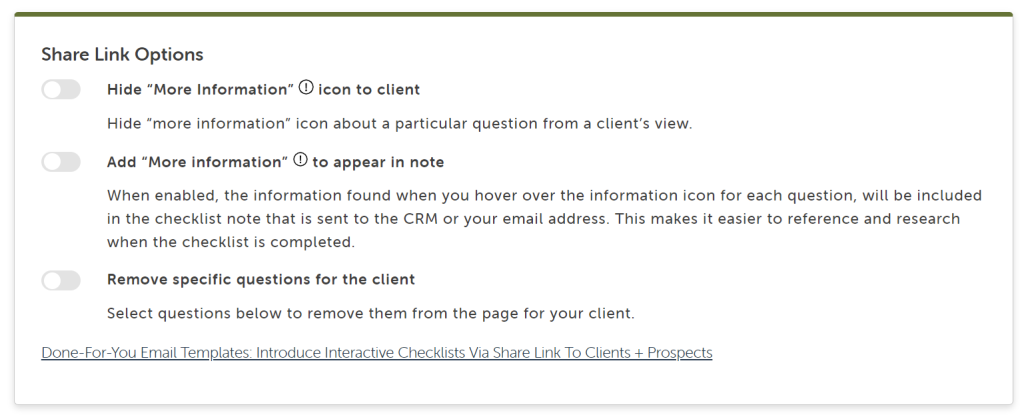 2. Prioritized Interactive Checklist Responses For Advisors Without A Linked CRM
One of the Interactive Checklist benefits members have found valuable is the prioritized responses. Until now, however, this was only available to members who have linked CRMs. Now, every Premier member who uses Share Link will experience the value of automatic prioritization. Going forward, when the client returns the Interactive Checklist, all of the YES responses will appear at the top of the email. Advisors can be confident that they are aware of the client's planning issues and will be prepared to address them with the client.
3. PDF Of Interactive Checklist Responses
This new feature adds another level of diligence to your recordkeeping. Now, when your client returns a completed Interactive Checklist, you will receive a PDF of the responses. The PDF will be attached to the notification email you receive, and the responses will be prioritized with the YES responses at the top. In addition to being able to easily add a copy to your client's CRM record or file, you can choose to share the PDF with your client for review during your meeting. 
4. Prioritized Responses For Advisor-Completed Interactive Checklists 
There are times you may want to collaborate in real-time with your client and complete an Interactive Checklist during a meeting. When you've completed the checklist, simply click "Review Your Notes." You'll see that all of the client's YES responses are now prioritized at the top of the notes, which makes it clear what you and your client should tackle first. 
Premier Membership Delivers All The FinTech Capabilities
Take action today to become a Premier Member and gain immediate access to Share Link, Interactive Checklists, and CRM Integrations. You can learn more about Premier Membership here. If you'd prefer, register for a live demonstration that includes a Q&A session that gives you an opportunity to speak with our team directly.