Use Checklists And Flowcharts To Enhance Your Planning Process: Part 1 of 7
A growing trend among financial advisors is to break the typical financial planning process into a series of smaller planning engagements with clients throughout the year. The idea is to provide more value to clients over the course of the planning relationship and to give them more opportunities to engage with their advisor. In turn, this expands the advisor's ability to connect with their clients and to have productive and meaningful conversations.
This new approach can take the form of a Service Calendar, where clients and prospects know exactly what part of their financial life will be reviewed throughout the year (with examples provided by Angie Herbers, Emily Purdon of XYPN, & Michael Kitces). This could also take the form of the Agile Financial Planning approach, which focuses more on a continuous financial planning process throughout the year.
What's important is that it doesn't have to be all or none.
Advisors can supplement their existing planning process by adding additional touch points. Perhaps all clients receive an email around tax time inviting them to send you their tax returns so you can review them. Then, in the fall, another email could be sent to invite clients to schedule a call with you to discuss end-of-year planning opportunities. This doesn't have to replace the annual meeting, and instead provides additional opportunities for clients to seek your advice, if they are interested.
If you're looking for more ways to incorporate fpPathfinder into your advisory business, we have developed several sample emails that you can modify and send to clients, inviting them to participate in a financial planning exercise. You can then select specific resources, which can be white-labeled for Deluxe and Premier members, to include with the email to clients.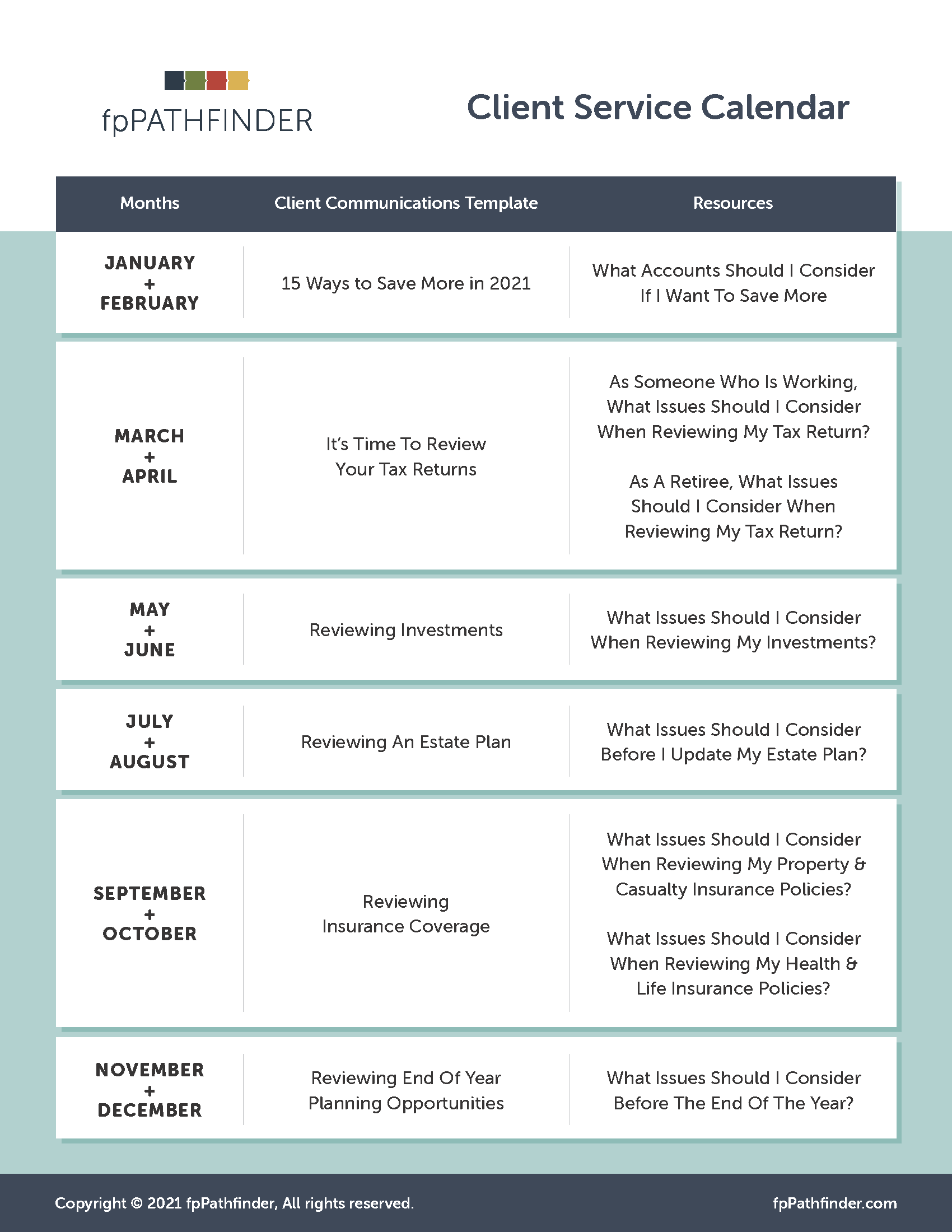 Download Complete Client Service Calendar
Below is an overview of the emails:
Reviewing Strategies To Save More (January and February): To overcome inertia, it is important to review chosen strategies and identify available alternatives periodically. To start the year off on the right foot, share this email and the "What Accounts Should I Consider If I Want To Save More?" checklist with your clients to encourage them to consider additional saving strategies.
Reviewing Tax Returns (March and April): Offer to review a client's tax returns by sending this email. Referencing the "As Someone Who Is Working, What Issues Should I Consider When Reviewing My Tax Return?" checklist and the "As A Retiree, What Issues Should I Consider When Reviewing My Tax Return?" checklist will help clients appreciate just how important it is to have a second set of eyes examine their filings.
Reviewing Investments (May and June): You can prompt clients to book a thorough annual review of their investments by sending this email. Share the "What Issues Should I Consider When Reviewing My Investments?" checklist to demonstrate the wide range of matters that might be covered during a portfolio review, beyond the basic topics of asset allocation and rates of return.
Reviewing An Estate Plan (July and August): Updating an estate plan may not be an annual exercise for your clients, but you can help keep this important planning area on the radar by sending this email, along with the "What Issues Should I Consider Before I Update My Estate Plan?" checklist, every year or so. By periodically asking clients specific probing questions outlined in the checklist, you can keep the estate planning discussion open, and promptly identify and address any issues that may require action.
Reviewing Insurance Coverage (September and October): This email invites clients to reach out to you to discuss their insurance coverage and possible gaps. The "What Issues Should I Consider When Reviewing My Property & Casualty Insurance Policies?" checklist and the "What Issues Should I Consider When Reviewing My Health And Life Insurance Policies?" checklist can provide a framework for your discussions, and demonstrate to clients the broad scope of a comprehensive review.
End-Of-Year Planning Opportunities (November and December): As the year draws to a close, several recurring and time-sensitive issues must be addressed. This email reminds clients of the importance of end-of-year planning at a high level, while the "What Issues Should I Consider Before The End Of The Year?" checklist identifies several specific planning considerations.
How to modify and use these sample emails
Feel free to modify the sample emails to better match your personal style and tone. Consider the following when sending these emails out:
Use an email newsletter service like Mailchimp or Constant Contact to easily send the email out to all your clients. You could even segment your email list so certain clients receive different emails depending on their unique situation (perhaps the language of the email is modified for clients who are retired versus those that are still working).
Use scheduling software instead of asking the client to contact you to book an appointment. By using a scheduler, like Calendly, you can let the client choose the day and time that works best for them, instead of trying to coordinate calendars yourself.
Deluxe and Premier members can white label the resources so that the checklists and flowcharts match the look and feel of their brand.