Every day, we learn about advisors who have developed personalized reports to communicate their value to their clients. Indeed, it's been impressive to witness advisors' creativity and ingenuity. As this trend gained momentum, we asked ourselves, "Can we help our members create — and even scale — personalized client deliverable reports?" 
As it turns out, the answer is, "Yes, we can, and we have." 
Why Do Personalized Client Deliverable Reports Matter? 
As an advisor, you're always doing work for your clients. But because time is a premium, they may not hear from you until there's a problem or it's time to host the annual review meeting. That's why we got to work developing Personalized Client Deliverable Reports. For this launch, the deliverables pair with the new "What Issues Should I Consider When Reviewing My RMD?" and "What Issues Should I Consider When Reviewing My Beneficiaries?" checklists. 
Now, you can leverage your behind-the-scenes work to create Personalized Client Deliverable Reports. The reports will: 
Empower you to initiate relevant, critical touchpoints with your clients.
Allow you to focus on a single topic.
Help you illustrate your work.
Offer timely probing questions that can uncover planning opportunities.
Confirm that you are on top of important matters and your client can rest easy.
Please take a few minutes to watch the video from Michael Lecours, CFP® and fpPathfinder Co-Founder, and Stacia Waren, Member Experience Manager, for additional context and a full tutorial. 
How Do Personalized Client Deliverable Reports Work?
Personalized Client Deliverable Reports offer a framework to lead actionable conversations with your clients. For the first time, you can generate a report that ties directly to a checklist using the information you already have.
The "What Issues Should I Consider When Reviewing My RMD?" checklist + deliverable, which is available to all advisors, is easy to use. To create the report, enter your client's RMD information. When you click "create deliverable," a client-ready pdf will download. You can choose to include the original checklist with the report.  
The next step is to share the report with your client. You can either add it to your client's vault or send it to the client in an email. Your objective is to have your client review specific information and to either uncover planning opportunities around the topic or demonstrate that the work has been completed and the client is on track.
The report serves up the data, and the checklist presents the probing questions that lead to diligent conversations.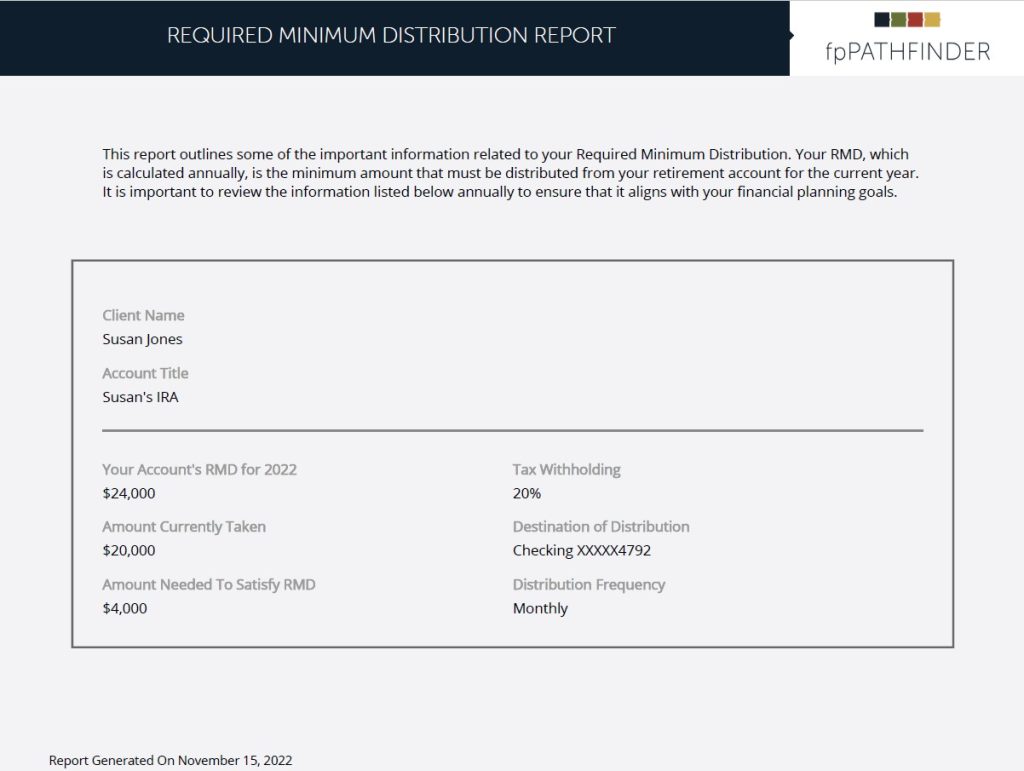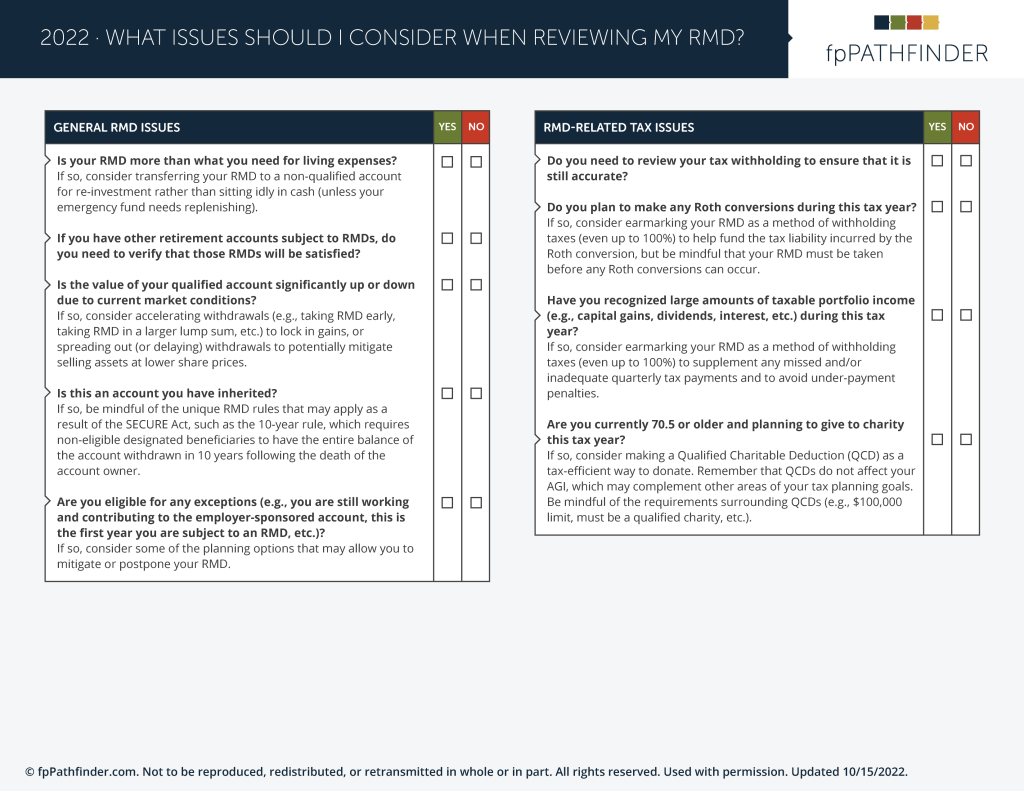 How Can I Scale Client Communications?
A feature of the Personalized Client Deliverable Reports is the opportunity to upload a templated CSV. This feature is available to Premier members, and it allows them to generate multiple client reports with a single download. Whether the Premier member adds the reports to client vaults or sends them via email, they'll save time and deliver the high-touch, consistent client experience that brings value to every relationship. 

Who Benefits From Personalized Client Deliverable Reports?
Of course, the answer is ADVISORS! More specifically, advisors who:
Recognize the need to demonstrate value to their clients. 
Strive to implement processes that allow them to scale client communications.
Enjoy having client conversations that focus on solutions and advice engagement rather than data collection and review.  
Premier members have access to both the Personalized Client Deliverable Reports and the CSV templates, which allow you to scale your client communications. Additionally, your checklists + reports will be white-labeled. To access both reports, Essentials and Deluxe members can upgrade to Premier for all of the additional benefits. (Yes! We will prorate your upgraded membership.) 
Not yet a member? We can help you with that. Visit the Become A Member page and join at the Premier level. Additionally, you can join a 30-minute live demonstration to learn more about Share Link Options. Of course, our team is standing by to answer your questions. Send them to [email protected], and we'll respond.