Since fpPathfinder's launch in 2018, advisors have shared tons of positive feedback about using our checklists and flowcharts to be more diligent in their financial planning process.
However, after 1600+ advisors were using the membership, we had an important request come up:
Advisors love using the checklists but wanted to complete them online and document their conversations in their CRM.
Here are fpPathfinder, we are hyper tuned into our members and use their direct feedback to build new resources and to improve our service.
So… we got to work building the feature requests of interactive checklists and CRM compatibility!
At the T3 advisor conference in February, we announced two major features were in the works and would be rolled out soon.
Feature Release #1: The Ability To Complete Checklists Online
In late February, we rolled out the first feature – the ability to complete checklists online.
TRY IT NOW: Experience an interactive version of our checklist, "What Issues Should I Consider If My Spouse Passed Away?"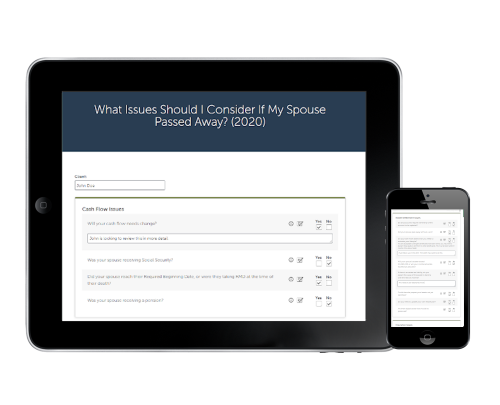 With this new feature you can:
Pull up an interactive checklist
Document the planning opportunities to consider
Add notes directly below each checklist question
Save the completed checklist-note to your CRM (or print it for your files)
We are very excited our second major feature is now live…
Feature Release #2: CRM Integrations
Our CRM integration with Redtail is now live!
Upon completing a checklist, the note can be saved directly to the notes section of the client record.
The other element of this integration is the ability to launch checklists from within Redtail.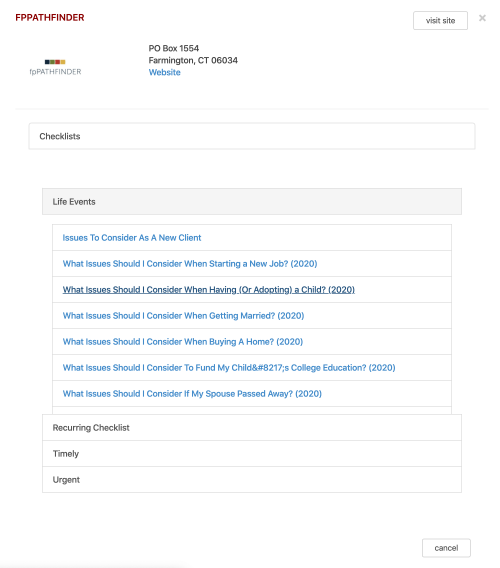 Now, when a client calls telling you that they are losing their job or are concerned about a possible recession, you can pull up the checklists like:
These are two samples of our checklists you could use to quickly provide the guidance your client needs, even if you are busy, overwhelmed or unsure of the steps yourself. No more spending hours on research before you respond!
And when you're done, you can send the completed checklist note to the client record so you or your team can reference it in the future.
This is far better than the current approach that many advisors take.
Currently, when a client calls their advisor alerting them to a major life event, many advisors put their client on hold and frantically search on Google looking for guidance.
Maybe the information is accurate, up-to-date and complete… maybe not?
We want to change that!
Ready to get started?
Introducing… our Premier Membership!
These two new features (the ability to complete checklists online and CRM Integrations) are included in our new membership tier: Premier.
Our "Premier" Tier includes everything offered in Essentials and Deluxe as well as the Interactive Checklist and CRM Integration features.
To see a sample or learn more, please visit the membership section.
NOTE: If you are part of a team, learn more about Enterprise Premier.
If you are currently a member, you can upgrade your membership to get these two new features.
If you are not a member, you can try using an interactive checklist by going here and you can get more information about our membership and options here.
Remember, you can always upgrade and receive prorated pricing in the future.
To diligent planning,
The fpPathfinder team