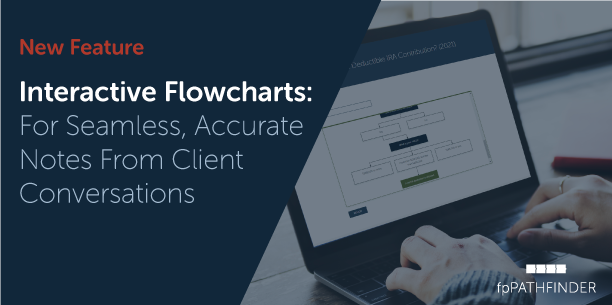 Now that our checklists are interactive, we explore the next step in fpPathfinder's interactive resources evolution: Flowcharts.
Flowcharts have proven themselves to be a valuable tool for fpPathfinder members. When you're answering a client question using a flowchart to navigate the various decision points, it is a simple and straightforward way for you — the diligent advisor — to help the client advance the conversation. Until now, you have either printed the flowchart or have shared the PDF version with the client. When you wrap up your call or meeting, though, is it easy to record your conversation seamlessly and accurately?
With interactive flowcharts, you can say goodbye to the days of retyping notes into your CRM based on the decisions you and the client made from working through the flowchart. And gone are the days of using a pen to highlight the decision path taken and then uploading it to your CRM. Now you can quickly document these conversations, so a year from now, you can pull up the notes to remind yourself and your client of critical details of your previous discussions.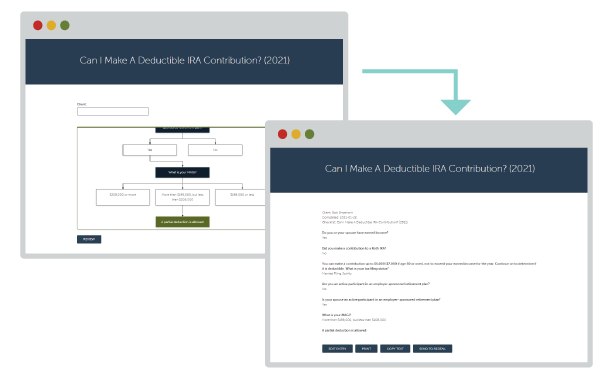 We Are Listening
Members have told us the flowchart experience could be smoother, so we went to work and made five of our flowcharts interactive to test whether this feature is helpful. Now we want your feedback!
Take a tour of interactive flowcharts. We have a sample version that you can test right now: "Can I Make A Deductible IRA Contribution?"
For Premier members, you have a few extra flowcharts you can use to document your conversations and save the notes directly to your Wealthbox or Redtail CRMs:
Use Interactive Flowcharts
This new feature will help you continue to streamline your advisory practice and enhance the client experience. With interactive flowcharts, you will be able to:
Leverage them as an internal guide when your client calls with questions to answer your client's quickly and confidently.
Share them during your client meeting and work through the interactive flowchart together.
Document the planning conversation you had with your client quickly when you integrate the interactive flowchart with your CRM to save the note.
The video below will help get you started. In it, Mike Lecours, CFPⓇ, advisor and co-founder of fpPathfinder, will coach you through how to use an interactive flowchart.
Give Us Your Feedback
Our work at fpPathfinder only matters when it matters to you. So please, give this new feature a try and let us know what you think. You can complete the survey or email support@fppathfinder.com with any constructive feedback.
Excited about what you've experienced here? Click here to become a member or upgrade your membership to Premier and make the most of every opportunity fpPathfinder delivers.