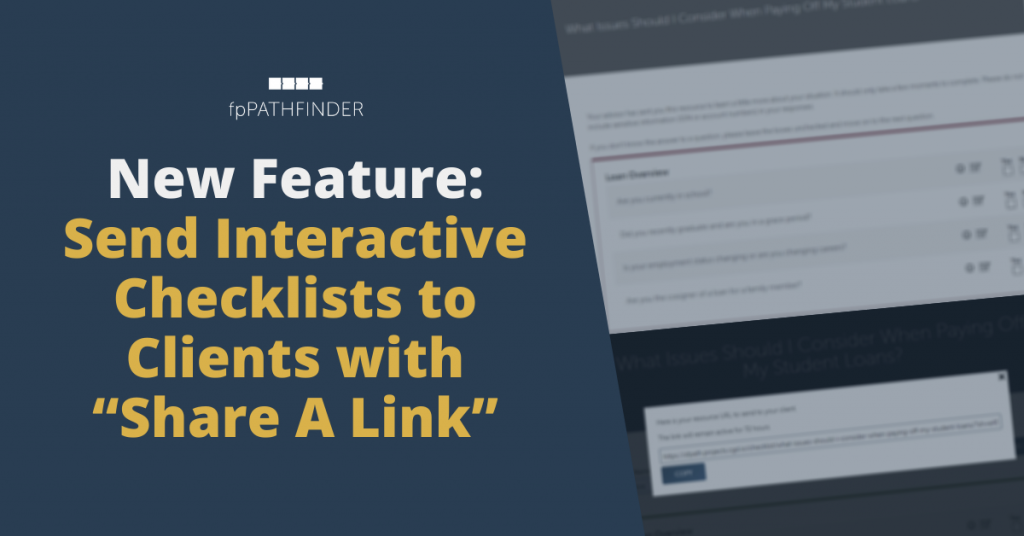 At fpPathfinder, we are always looking for ways to help you become more diligent in your planning processes. That's why we are excited to announce a new feature called "Share A Link" that will help you improve your workflow, improve the data collection process from clients, and help you diligently prepare for meetings.
This feature has been on the top of our members' wishlists for a long time and is now available for our Premier members!
Quick Summary: You can now send interactive checklists to your clients for them to complete on their own (perhaps before or after you meet with them). Your clients can answer the probing questions asked in the checklist and the answers will be logged in the notes section of Redtail and Wealthbox CRM (or it will be emailed to you if you don't have either of those CRMs). No more walking clients through checklists during meetings!
…
Improve Your Workflow, Data Collection, and Meeting Preparation
Many members love our interactive checklists, but have been asking, "How can I send these so clients can complete them before a meeting?" Introducing our new, "Share A Link" feature!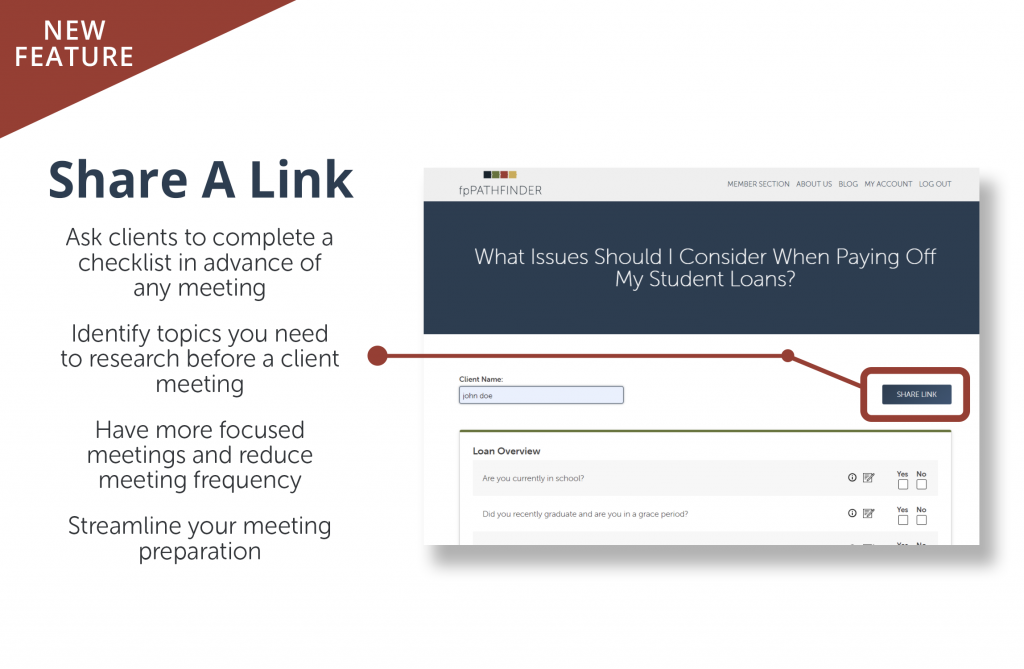 With "Share A Link" advisors will be able to:
Ask clients to complete a checklist in advance of any meeting
Identify topics you need to research before a client meeting
Have more focused meetings and reduce meeting frequency
Streamline your meeting preparation
Share A Link allows your client to complete checklists on their own time and you'll know in advance any items needed to prepare or research. The checklists can be white labeled with your firm's branding and logo creating a seamless process for your clients.
You will be able to quickly narrow in on planning issues and opportunities giving you everything needed ahead of time. This allows you time to focus and diligently prepare for your meeting (saving both you and your client time).
Ready to see how Share A Link works? Enjoy our walkthrough below!
How To Use "Share A Link" To Streamline Your Business
New features don't matter unless they help streamline processes within your firm and serve your clients better. Share A Link was built with that in mind. Learn more about how to use Share A Link with the video and walkthrough below.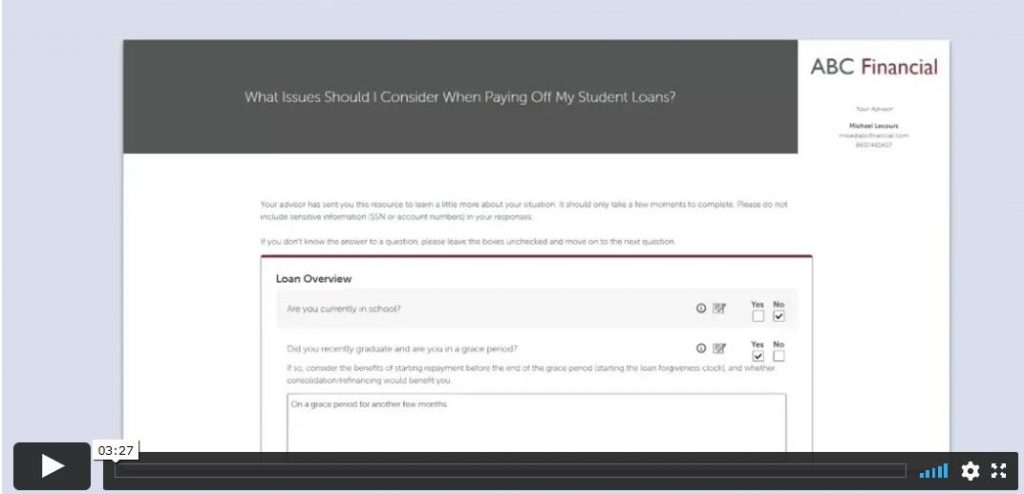 Step 1: Launch an Interactive Checklist and Select the Client From Your CRM
If you have your CRM (currently, Redtail or Wealthbox) integrated with fpPathfinder, you can launch checklists from within the CRM, and then once the client completes the checklist, the results and answers will be sent to the contact's record within the CRM.
If not, you can launch a checklist from fpPathfinder.com and when the client completes the checklist, you will receive an email with the answers to the questions.
Select the client from your CRM and move on to the next step.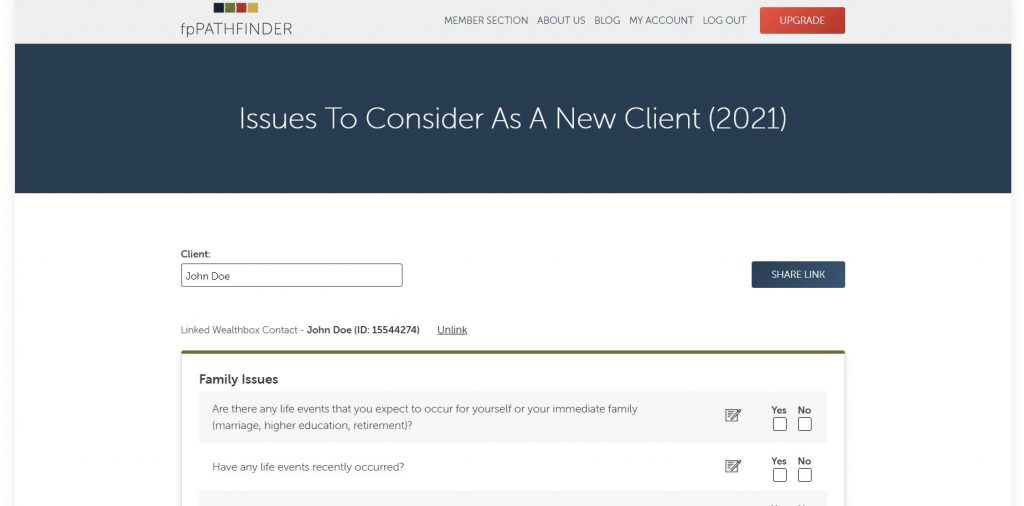 Step 2: Get A Link to Share Your Interactive Checklist 
Click the "Share Link" button, and copy the link provided. Then write an email to outline why you are sending this checklist to them.  Perhaps you send the "Issues To Consider In A Client Annual Review Meeting" checklist to clients before the meeting and ask them to complete it.

Step 3: What Your Clients Will See
Once you send the link to your client, this is their view. You can see that your logo, name, and contact information are in the upper right corner. The whole page is white labeled to match your firm's brand. There is even an introduction that can be modified based on how you use the checklists in your firm, but we've given you some sample language to get started. To update, go to your White Label settings and scroll to find Share A Link.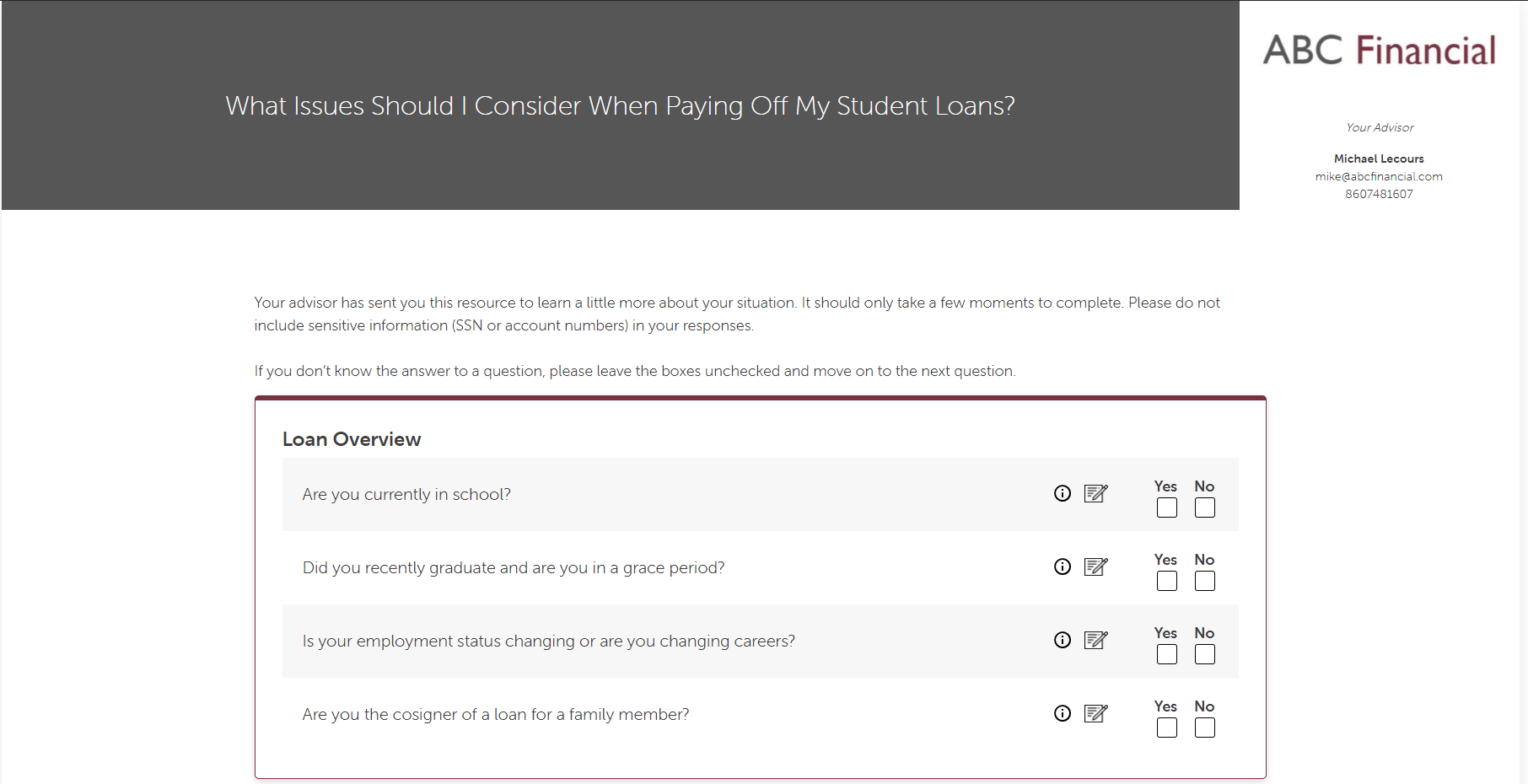 Step 4: Clients Complete Checklist and Enter Notes
Clients can complete the checklist and click the note icon to add helpful details or the information icon to learn more about why this question is being asked. All the details will be logged in the notes section of Redtail and Wealthbox CRM (or it will be emailed to you if you don't have either of these CRMs).

Step 5: Client Clicks Button to Send To You, Their Advisor
Once the client has finished the checklist, they simply click the "Send To Advisor" button, and notes will be added to your CRM or emailed to you. And if you need it, there is a section at the bottom to add your disclosure or any other information (such as a description of what the client should expect to occur next).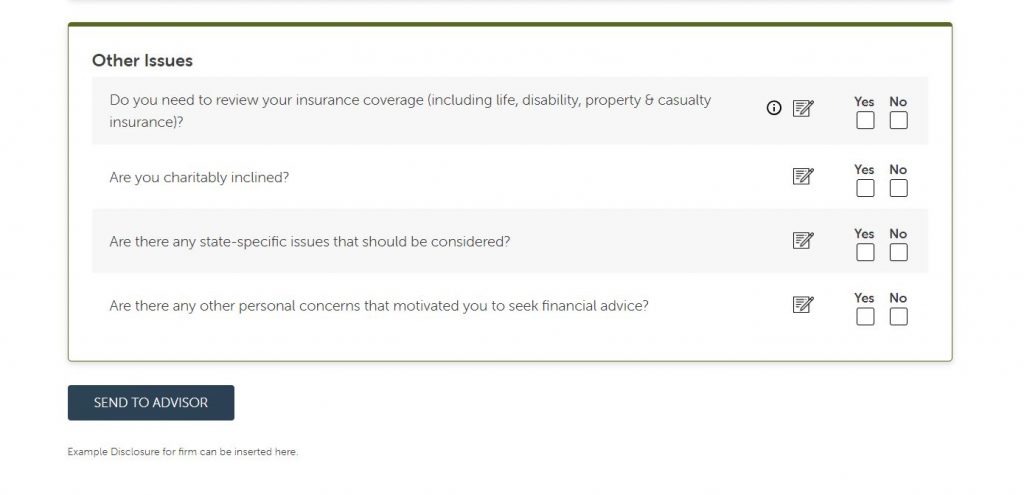 To add your disclosure, go to your White Label settings and scroll to Share A Link at the bottom to add. Make sure to hit Save Settings when you are finished.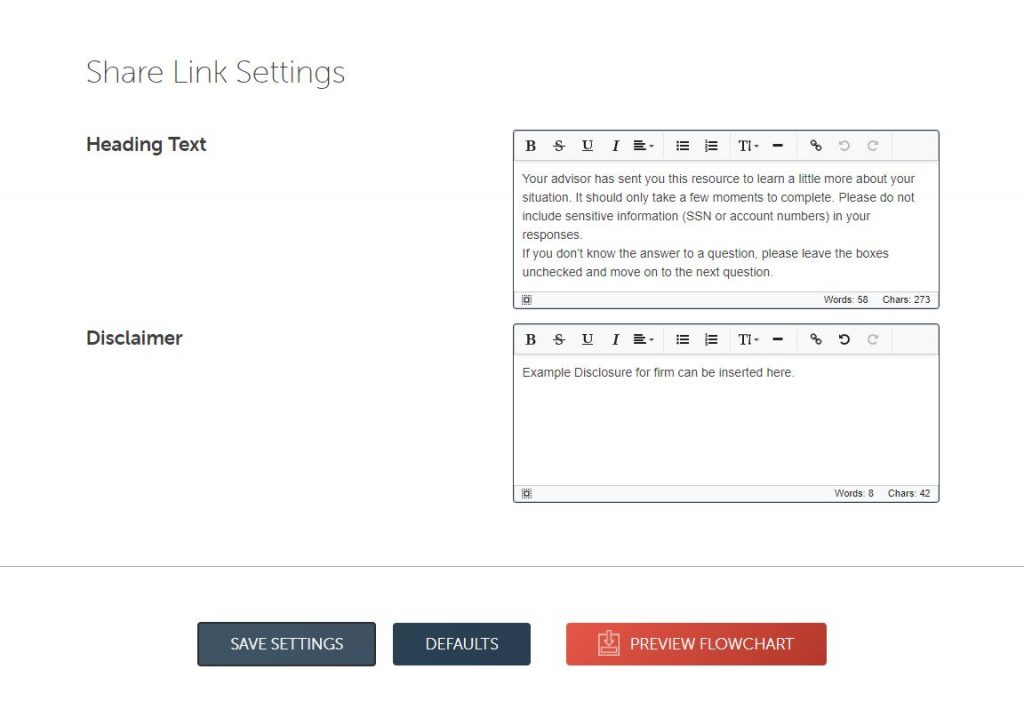 That's it! "Share A Link" is easy, quick, and helpful. 
You can now spend less time walking clients through the interactive checklists and more time in other areas of the business. 
IMPORTANT NOTE: "Share A Link" is now available for all Premium members. If you need to upgrade to use this feature, please go here.
Got Questions?
Have any questions about this feature or your fpPathfinder membership? We are here to help. Email us at any time at support@fppathfinder.com.