There are a multitude of planning opportunities for clients who are in the process of retiring. But there are also lots of planning opportunities that should be considered for clients that have been retired for some time. Many of those issues that need to be considered go beyond their retirement account. With each client situation being different and the rules and regulations always changing, it can be overwhelming to structure a systematic way of uncovering planning issues for your clients.
To help you prepare, fpPathfinder designed "Resources To Consider Sharing With Retirees" to help ensure you have the right resources to quickly answer questions and to identify additional planning opportunities.
Retirement planning is stressful for clients. Showing your clients that you are working in a systematic way helps to establish trust in you as their advisor, and gives them the confidence to move onto the next step in their life.
Review the flowchart and then review your client list to see if there are additional planning opportunities you can bring to their attention. Then, keep this flowchart on hand as your retirement conversations evolve.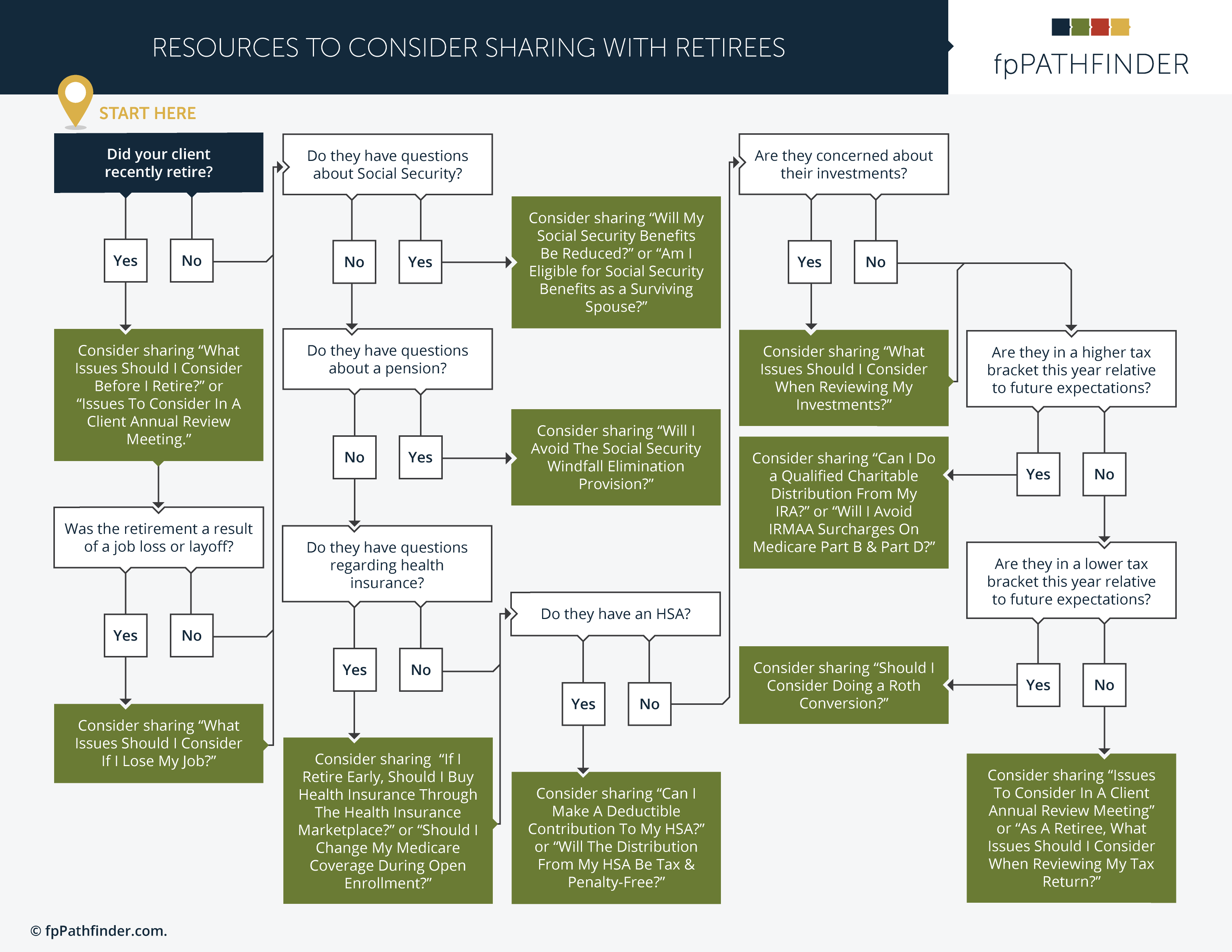 Download PDF version of this flowchart
Quick links to the resources referenced:
What Issues Should I Consider Before I Retire?
What Issues Should I Consider If I Lose My Job?
If I Retire Early, Should I Buy Health Insurance Through The Health Insurance Marketplace?
Should I Change My Medicare Coverage During Open Enrollment?
Will My Social Security Benefits Be Reduced?
Am I Eligible For Social Security Benefits As A Surviving Spouse?
Will I Avoid The Social Security Windfall Elimination Provision?
Can I Make A Deductible Contribution To My HSA?
Will The Distribution From My HSA By Tax & Penalty-Free?
What Issues Should I Consider When Reviewing My Investments?
Can I Do A Qualified Charitable Distribution From My IRA?
Will I Avoid IRMAA Surcharges On Medicare Part B & Part D?
Should I Consider Doing A Roth Conversion?
Issues To Consider In A Client Annual Meeting
As A Retiree, What Issues Should I Consider When Reviewing My Tax Return?