Because the SECURE Act 2.0 includes many changes that will be phased in over the next few years, the fpPathfinder team has developed a summary checklist. The "What Important Issues Should I Consider Regarding Changes Made By The SECURE Act 2.0" summary checklist provides an overview of the most significant changes grouped by the year in which the changes take effect.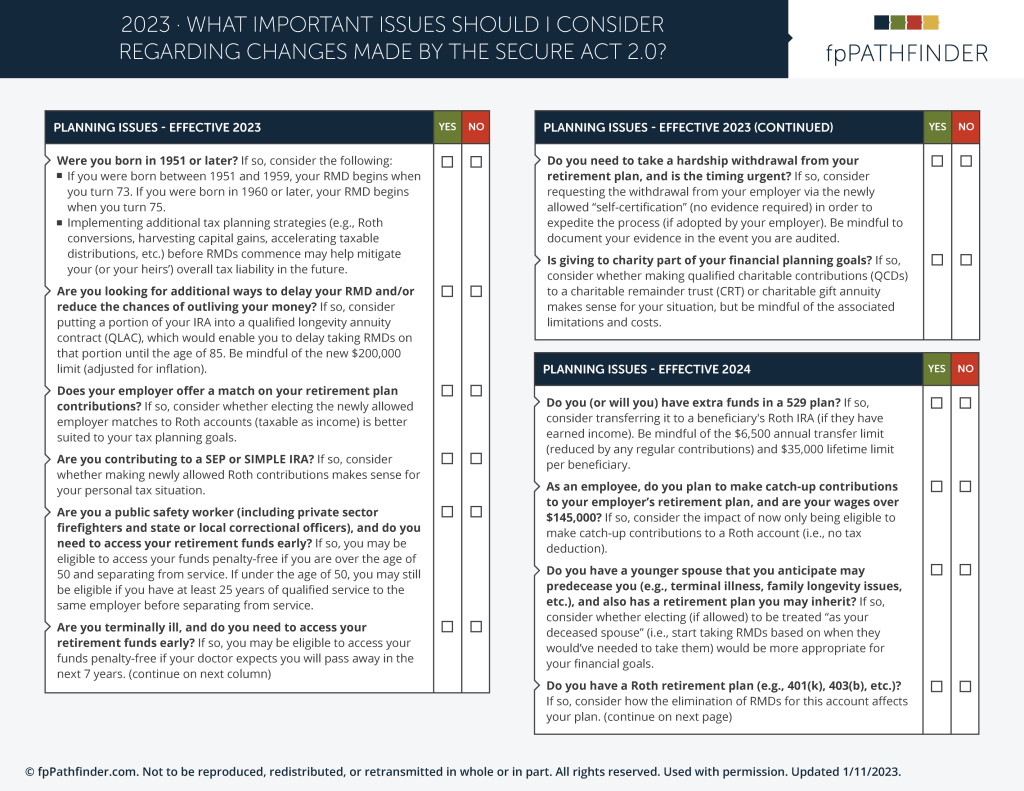 How Can You Use The Checklist?
The SECURE Act 2.0 summary checklist is a terrific guide you should introduce to your clients as soon as possible. Here's why:
You'll reinforce that you are on top of the details that make a difference to their financial plans. 
You can instigate a powerful call to action when you ask your clients to consider how the SECURE Act 2.0 will affect their financial goals and plans. 
You'll quickly identify and prioritize planning opportunities that will keep your clients on track.
Now is the ideal time to Integrate this checklist into your current client communications. So you don't have to start from scratch, the fpPathfinder team has created an email template you can use. Feel free to use it as it's written or as inspiration.
Get The Summary Checklist In Front Of Your Clients
The "What Issues Should I Consider Regarding Changes Made By The SECURE Act 2.0" summary checklist will serve both you and your clients well. Premier fpPathfinder members can use the Public Share Link + the email template to scale their client communications. It's possible that Deluxe fpPathfinder Members may want to attach the white-labeled checklist to a client email, use it during a meeting, and offer it as a takeaway to fuel future conversations. For the Essentials fpPathfinder Member, consider using it to prep for meetings so you're ready to lead actionable conversations. 
Not yet an fpPathfinder member? We can help you with that. You can visit the Become A Member page to explore Premier, Deluxe, and Essentials membership and select the one that moves you closer to your goals. If you'd like a more personalized experience, register for a live demo with the fpPathfinder team. Bring your questions, and we'll be happy to answer them on the spot!