Advisors who use XLR8, a CRM overlay built on top of Salesforce, have a new reason to get excited: The integration between XLR8 and fpPathfinder is live!
One-Click = Big Benefits
XLR8 is a powerful Salesforce-based CRM that supports the work you do with clients. With the integration fpPathfinder offers, your CRM will work harder for you. Most importantly, fpPathfinder Premier Members can send completed interactive checklist notes to their XLR8 contact records with just one click.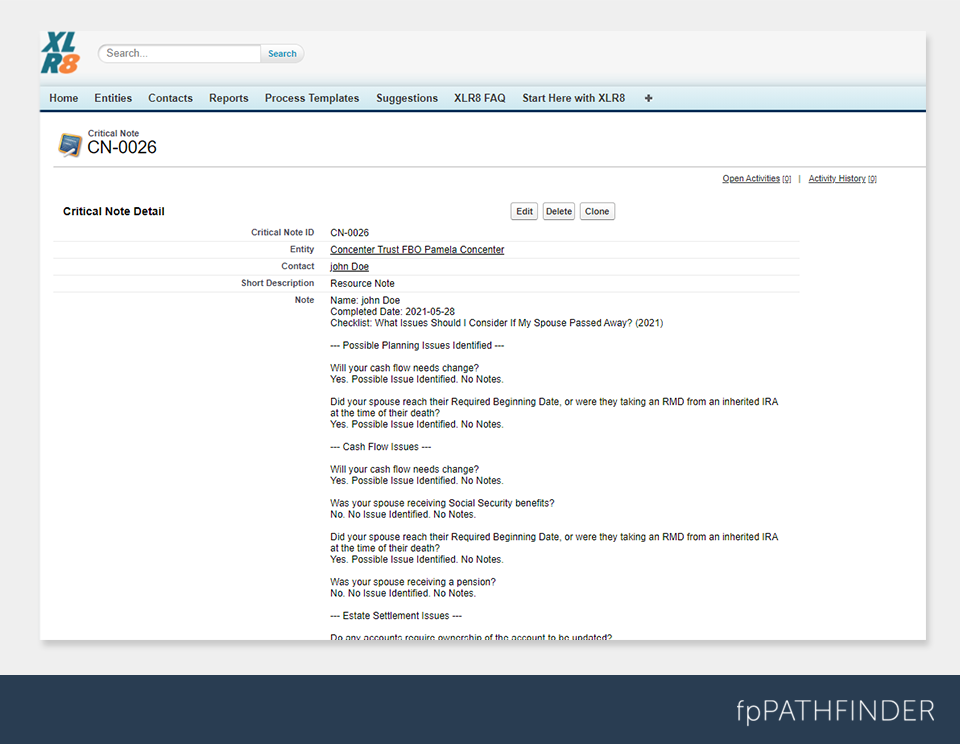 In an instant:
Focus your activities: Every planning issue identified (answer YES to the probing questions) is clearly visible at the top of the note. You can easily see your follow-ups and take action.
Enhance your efficiency: All of the planning issues identified (answer YES to the probing questions) and notes are summarized in a single task and marked as "research and address possible issues" for follow-up.
Underscore your diligence: All unanswered questions are summarized in a single task for you to "gather more information and identify possible planning issues."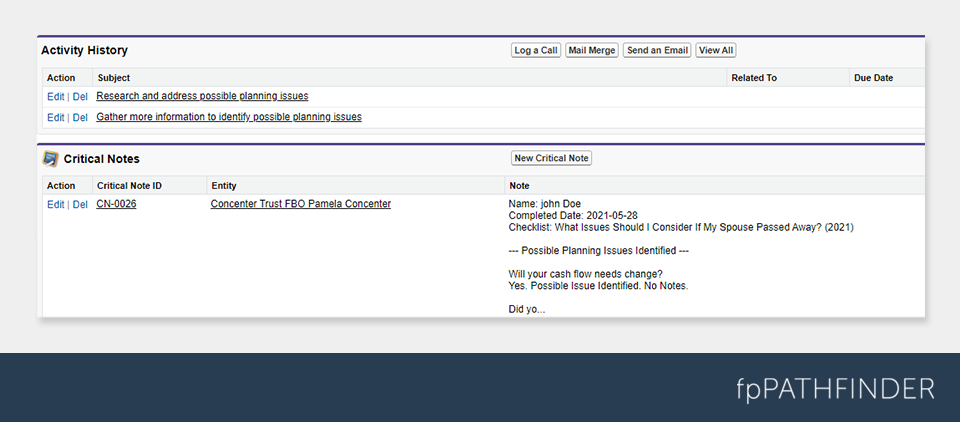 If you're a Premier Member who uses XLR8:
Log in to your XLR8 and fpPathfinder accounts.
Go to the fpPathfinder "My Account" button in the navigation bar and hover.
Click on "Integrations."
Find "Salesforce" and click "Activate" and then "Settings."
Follow the prompts, and you'll be all set.
Premier Membership = The Diligent Advisor's Gold Standard
Advisors who create and deliver a meaningful client experience, activate and maintain a robust marketing plan, and focus on consistency and accuracy are naturally drawn to the Premier Membership. Become a Premier Member to access:
The XLR8 CRM integration, which allows you to add enhanced interactive checklist notes to your contact record with one click.
Interactive checklists, which allow you to add notes.
Share A Link, which allows you to send interactive checklists to your clients before or after meetings to engage them in the planning process.
White label capabilities, which empower you to make every checklist and flowchart your own.
Digital rights, which permit you to include your white-labeled resources in your marketing.
Personalized dashboard capabilities, which make it easy to build your library of favorite checklists, flowcharts, and guides for easy, fast reference.
Every checklist, resource, and guide fpPathfinder publishes (and updates), which enhance your ability to serve your clients confidently.

Your Requests = fpPathfinder Action
You've told us frequently that you want fpPathfinder to integrate with Salesforce, and we've heard you. Our partnership with XLR8/Concenter Services is our first Salesforce-based integration, and we intend to roll out additional partnerships. If you use Salesforce, but not the XLR8 overlay, please reach out to us at [email protected]. Let's have a conversation about how to get your version integrated.